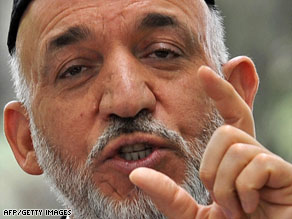 I'm crushing your head, Mullah Omar
An update on this story. "Afghan President: I'll Send Troops to Pakistan," from the Associated Press, June 15:
KABUL, Afghanistan "" Afghan President Hamid Karzai threatened Sunday to send Afghan troops after notorious Taliban leaders inside Pakistan "" an angry warning to his eastern neighbor that he will no longer tolerate cross-border attacks.
The threat "" the first time Karzai has said he would send forces into Pakistan "" comes only days after a sophisticated Taliban assault on Kandahar's prison freed 870 prisoners, including hundreds of militants from the Islamist movement. It also comes six weeks after Karzai survived his fourth assassination attempt "" an attack claimed by the Taliban.
Karzai has long pleaded with Pakistan and the international community to confront tribal area safe havens, and U.S. officials have increased their warnings in recent weeks that the sanctuaries in Pakistan must be dealt with.
Last week, U.S. aircraft dropped bombs along the Afghan-Pakistan border, an incident the Pakistan army said killed 11 of its paramilitary forces. The exchange ratcheted up increasingly touchy relations among the U.S., Afghanistan and Pakistan.
Analysts said they doubt military action by Afghanistan is imminent, but Pakistan's prime minister said the threat "will not be taken well." A Taliban spokesman warned that the Afghan army would be defeated by thousands of armed tribesman.
Speaking on the grounds of his fortified presidential palace, Karzai told a news conference that Afghanistan has the right to self defense, and because militants cross over from Pakistan "to come and kill Afghan and kill coalition troops, it exactly gives us the right to do the same."
Then, Karzai warned Pakistan-based Taliban leader Baitullah Mehsud that Afghan forces would target him on his home turf. Mehsud has been accused in last year's assassination of former Pakistani Prime Minister Benazir Bhutto.
"Baitullah Mehsud should know that we will go after him now and hit him in his house," Karzai said.
"And the other fellow, (Taliban leader) Mullah Omar of Pakistan, should know the same," Karzai continued. "This is a two-way road in this case, and Afghans are good at the two-way road journey. We will complete the journey and we will get them and we will defeat them. We will avenge all that they have done to Afghanistan for the past so many years."
In Pakistan, Prime Minister Yousuf Raza Gilani said his country is a sovereign state that wants good relations with its neighbors. But he said the Afghan-Pakistan border is too long to prevent people from crossing, "even if Pakistan puts its entire army along the border."
"Neither do we interfere in anyone else's matters, nor will we allow anyone to interfere in our territorial limits and our affairs," Gilani told The Associated Press. "We want a stable Afghanistan. It is in our interest. How can we go to destabilize our brotherly country? Such kind of statements will not be taken well by the people of both countries."
A spokesman for NATO's International Security Assistance Force said he would not comment. But another ISAF official said he thought Karzai's comments should be seen as a reflection of frustration with militant safe havens but not as a sign an attack is imminent. He asked not to be identified because he wasn't authorized to speak on the topic publicly.